Finikoudes – The popular main strip in Larnaca
"Finikoudes" is the name given to the main strip of sand on the eastern coast of Larnaca. It translates literally to "small palm trees" referring to the line of palm trees planted back in 1922. It is considered one of the most famous beaches of southern Cyprus, around 600m long with fine grey sand. Finikoudes beach is conveniently centrally located and stretches alongside the city's main promenade and the coastal road, Athenon Avenue. It has become known as the lively coastal promenade with an array of picturesque multi-coloured umbrellas, attracting large crowds both day and night.
Its shallow waters are flanked by the marina with its pier and fishing harbor on one side and a second pier and the Medieval Castle on the other. The organised coast has toilets, showers, changing rooms, sun-beds, umbrellas, dustbins, recycling bins and a beach bar. Relax with a book on the beach and then take in the nearby museums and historical sites, or simply wander into the city for shopping and restaurants.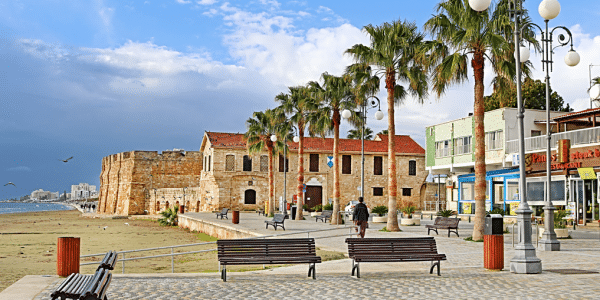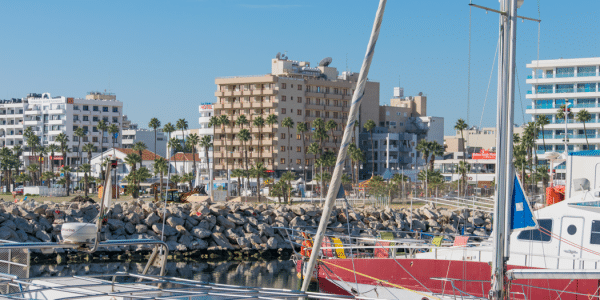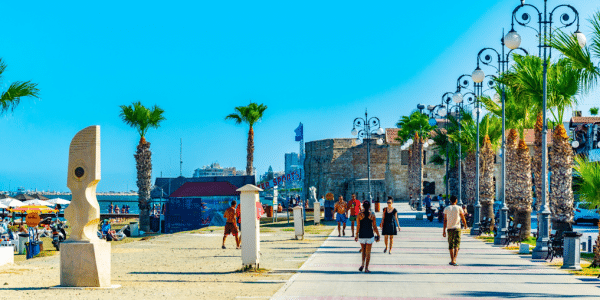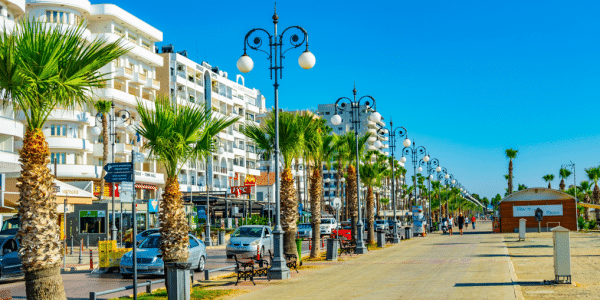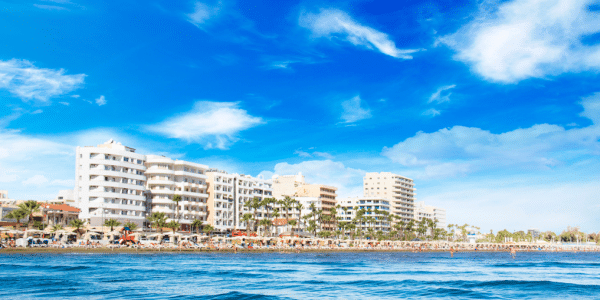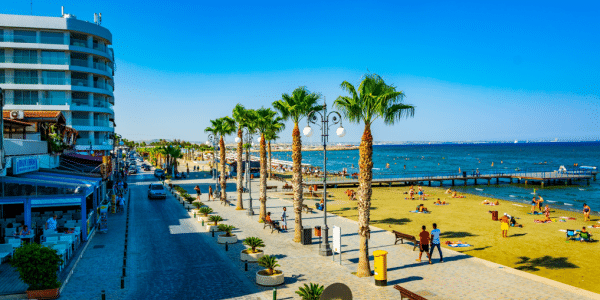 Finikoudes Activities
For those who like a more active day at the beach, there are plenty of water sports to try and designated sports areas in the sand if you want play a game of volleyball or soccer. There is also outdoor resistance and body-weight gym equipment that is free to use at the beginning of the promenade. The coast hosts regular beach volleyball tournaments with a specially constructed court and spectator stands. Various other sports and sporting events take place throughout the year. A variety of boat trips are available from the marina ranging from full-day fishing expeditions to short glass-bottom boat rides.
Family friendly
Finikoudes is one of the best areas to enjoy family friendly activities in Larnaca. Swimming at this beach is safe for children as the water remains shallow for a distance. There is also a small fun park with an arcade, guaranteeing the children will never get  bored. Since the heart of the city lies just behind Finikoudes many kiosks and a large shopping district are nearby. There are a plethora of cafes and Larnaca restaurants near the city's main Promenade which offer great choices at low prices and offer stunning views of the sea. Other sites within walking distance are;  the Church of Saint Lazaros, Larnaca Medieval Castle and the Pierides Museum.
Larnaca's beaches are usually packed from May to September, when locals and tourists both visit the beaches to cool off. Several car parking spaces are available. Nearby a main bus stop on the strip links the promenade to the town and rural villages, and other towns  via Intercity bus.
Pay a visit at Finikoudes and enjoy the beautiful beach and the plenty of sea-side activities.